Brenda Chi was born in Los Angeles (SGV) and was raised by sitcoms and cartoons. She focuses on making art that shines a light on Asian American stories and experiences. Her personal goal is to make work that can elevate all BIPOC, to empower and inspire others. She's also a multidisciplinary artist, with a background in animation,  educational illustration, and apparel consumer products. Currently, Brenda is an Associate Art Director at Pocket Comics (USA), developing new stories with writers and artists to create unique comics series.
She also loves drawing her two one-eyed cats, Compton and Lychee. You'll often find her with green hair, sipping Horchata or a Taro Milk Tea!
Sanrio, 
Netflix, 
FX, 
Fiat, 
Atlantic Records, 
Pizza Shark, 
The Standard, 
We Are Uprisers, 
Irvine Spectrum Center, Admerasia, 
LA Chinatown, 
Chinese American Museum, 
Melody Ehsani, Hot Topic, Starburns Industries.
"New Frontiers: The Many Worlds of George Takei" with writers Jeff Yang & Keith Chow, a comic anthology of Asian American life--credited as comic artist and writer.
"History Is Colorful: A Coloring Book of Asian American Pioneers" with Admerasia, Immigrant History Initiative, and #IAmNotAVirus-- credited as Illustrator.
#HateIsAVirus art book fundraiser as Illustrator. Guide for AAPI art, distributed to college campuses nationwide.
Chinese American Museum: "Asians in Hiphop" Zine as Illustrator.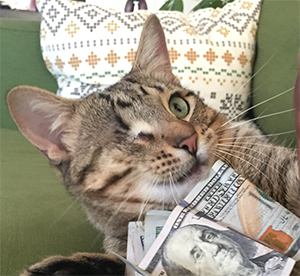 NBC News Asian America, Asian American Comic Con, Giant Robot, The Many Voices of Mark Hamill DesignerCon, The Auction of Many Things: A D&D Themed Art Show - Titmouse Studios, Eat More Art Out: Next Stop, The Twilight Zone, Pussy Strikes Back - Titmouse Studios, Canto Cutie, Homeroom (University of Washington), USCape (USC), #HateIsAVirus, LB Zine Fest, LA Zine Fest, Skylight Books, East West Shon, Chunky Paper, SingTao Newspaper